Overview of Taro's Origami Method
How Taro's Origami Method Works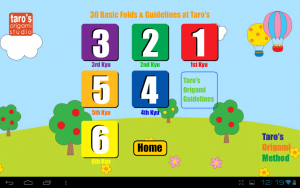 "Yellow Belt (6-kyu)" through "Red Belt(1-kyu)"
All origami begins with the same basic folds. At Taro's Origami Studio, we have created a system very similar to the way karate is taught, to help people learn origami. Instead of mastering and then demonstrating martial art forms, we ask students to master and then demonstrate origami folds before advancing to the next level – or Kyu. We have also classified the basic folds according to difficulty so that a student's skill will develop gradually and without great leaps in complexity.
To advance to the next Kyu-level — there are six levels total, and each has 5 folds — students will be given a quiz to demonstrate a selection of skills from both their current Kyu-level and any of those leading up to it. These folds should be memorized in order to graduate, and move on to more complex ones.
Skills learned in the very beginning are carried throughout all of the levels.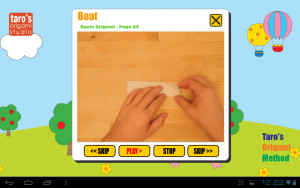 The folds of the most basic levels are carried throughout a student's training. The first few folds may seem simple, but learning the precision and patience needed to complete them accurately each time is an invaluable skill we strive to instill. Even when a student attains the highest rank, they will continue to use even the most basic folds in the hardest of models. Understanding the relationship between the simplest folds and how the most advanced models rely on these foundational steps is key to understanding origami.
KYU
Samples that can be folded in each KYU
Basic Folds
6th KYU
(Yellow)
5th KYU
(Orange)
4th KYU
(Blue)
3rd KYU
(Purple)
2nd KYU
(Green)
1st KYU
(Red)
Benefits of Taro's Origami Method
Origami is not simply a hobby.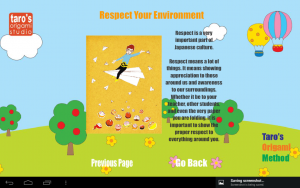 In addition to the joys that come from creating origami, the real world applications of developing this skill extend to countless aspects of our everyday lives.
Behavioral skills: Origami is an example of "schematic learning through repeatable actions". To be successful, the student must watch closely and listen carefully to specific instructions and then carry them out with neatness and accuracy. For many, this way of learning engenders a patience that leads to pride in one's work, the ability to focus energy, and increased self-esteem.
Cooperative Learning: Origami is well-suited to working with large classrooms and in a multi-age setting. Paper folding tends to eliminate the status associated with age and often younger children can be in a position to teach the older ones. Many people report that children who do not "star" in other places are often quick to learn origami and help their classmates master the steps.
A Bridge to Math: Transforming a flat piece of paper into a three-dimensional figure is a unique exercise in spatial reasoning. What happens when you unfold an origami model? Can you see the symmetry in the crease patterns? Manipulating paper with your hand can help you understand concepts that may otherwise seem abstract. In addition, paper folding allows students to create and manipulate basic geometric shapes such as squares, rectangles, and triangles.
Cognitive Development: Through the actual folding, people use their hands to follow a specific set of steps in sequence, producing a visible result that is at once clever and pleasing. The steps must be performed in a prescribed order and with a fine attention to detail to yield a successful outcome – an important lesson not only in origami, but in life.
We are creating an environment of learning that extends far beyond folding paper. Through Taro's Origami Method, and by applying the skills you develop by studying origami, we firmly believe that educational value exists for everyone, not just for origami enthusiasts.
Exposure to Japanese Culture
In addition to teaching origami, we strive to spread key elements of Japanese culture that have allowed paper folding to thrive for centuries. Origami reflects the ingenuity and aesthetics of Japan, and by participating students gain appreciation of a different culture, perhaps opening a doorway to further exploration and increased tolerance. With this in mind, we begin each class by having the students wash their hands and sit upright at their tables so they can give each fold and crease the attention it needs.
We thank you for your interest in this ancient art form and strive to help you reach your origami-folding potential!