Adjustments have been made to obtain certification online during the pandemic of COVID-19. Please read descriptions carefully.
TARO'S ORIGAMI METHOD OVERVIEW
Taro's Origami Studio is home to one of the first origami studios in the United States and through years of refinement and teaching, they have created a definitive and comprehensive system for learning origami.  Most origami books or classes are focused on learning specific models, but what makes the Taro's Origami Method unique is its focus on learning all of origami, so that you can become fluent in the art form for years to come.  The method is based off of the centuries old tradition of martial arts, where you learn the simpler maneuvers as a foundation, so you can add to it as you master newer and more complex folds.
Taro's offer a wide variety of origami courses that you can learn and become certified in, but each one begins here with the basic course.  Once you have passed this basic course you will be able to try out any number of different applications for paper folding, like modulars, tessellations, flowers, or animals.  Have a look, and see if you're ready to begin your origami journey!
BASIC COURSE DESCRIPTION
In this Taro's Origami Method: Taro's Origami Artist Basic Certification Course, candidates develop their origami skills from learning the basic folds, and reading diagrams so they can make models with precision.  To enjoy the folding journey of origami, students are taught to learn the basic folding techniques using the Taro's Origami Method, which is based on the achievement levels of a martial arts belt system.
Origami is being used regularly in the fields of aerospace, science, architecture, and medicine in addition to math, art and design.  Folding combinations are also infinite, so this certification course is a wonderful way to start learning a valuable skill, especially if you are aspiring to share your love of folding through teaching.  We will teach you the ways of origami in the following order:
Session 0: Introduction to Taro's Origami Method System (about 1.5 hour)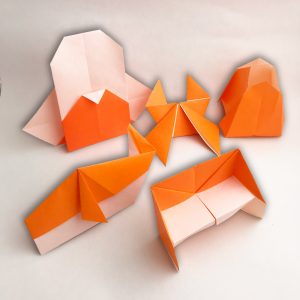 You will be introduced to the history of origami, the works of Taro's Origami Studio, and and an overview of how Taro's Origami Method System works. This will all be presented by the instructor through slideshows and videos.
Session 1 to 4: Complete the Folding Classes
Session 1: Lessons for 6th-Kyu Yellow Belt and 5th-Kyu Orange Belt Basic Folds
Session 2: Lessons for 4th-Kyu Blue Belt and 3rd-Kyu Purple Belt Basic Folds
Session 3: Lessons for 2nd-Kyu Green Belt and 1st-Kyu Red Belt Basic Folds
Session 4: Evaluation and Certification
Each session takes 1.5 to 2 hours.
You will learn all basic folds through video and guidance from the instructor. In order to complete the Taro's Origami Method Basic Certification course, we require students to present or submit selected models demonstrating mastery of the Taro's basic origami folds.  This way we are able to make sure each student has learned everything needed to succeed in origami.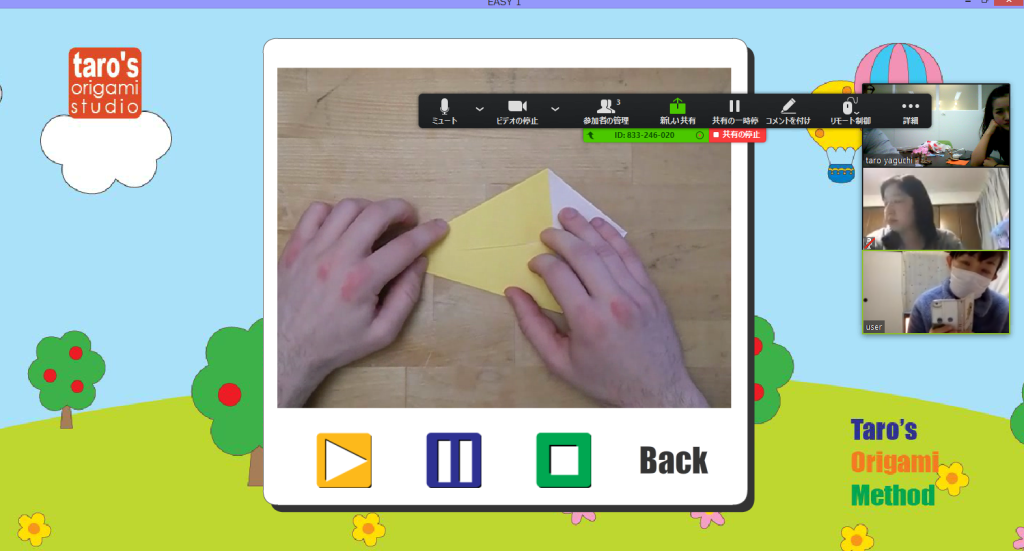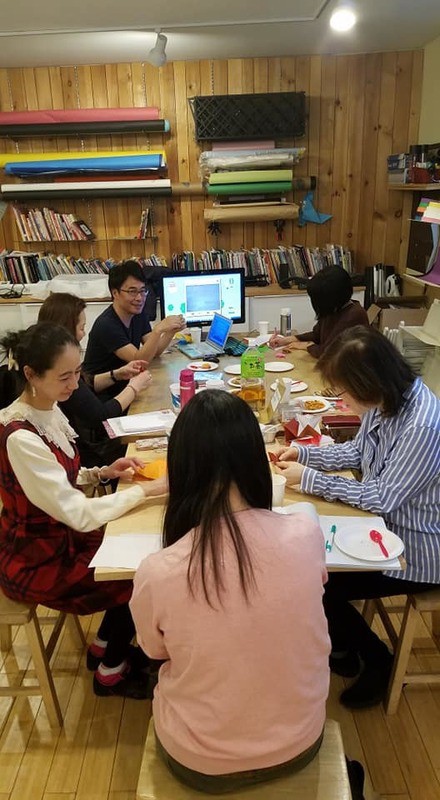 Schedule an Introduction and Lessons

*Certification courses are taking place online through webcam. We will resume the option of in person courses after quarantine has been lifted.
After purchasing this course, an instructor will contact you to schedule Session 0. After the session is finished, you will be emailed a coupon code to apply in this link.  After applying the code, you will receive another code to book the other 4 lessons through this link. Book one at a time by clicking "Adult Introduction Class." The instructors to choose for your courses are Joe Adia or Taro Yaguchi (for Japanese speakers). The codes you receive will ensure you can attend 4 lessons without additional charge.
Certification Benefits:
-You will obtain origami skills with Taro's Origami Artist Basic Certification.
-You will participate in opportunities offered by Taro's Origami Studio. These opportunities include decorating for the events, hosting workshops in stores and folding for corporate works (these do not require teaching Taro's Origami Method.)
-You will be paid and receive discounts for participating in future Exhibition/Convention/Competition opportunities at Taro's Origami Studio.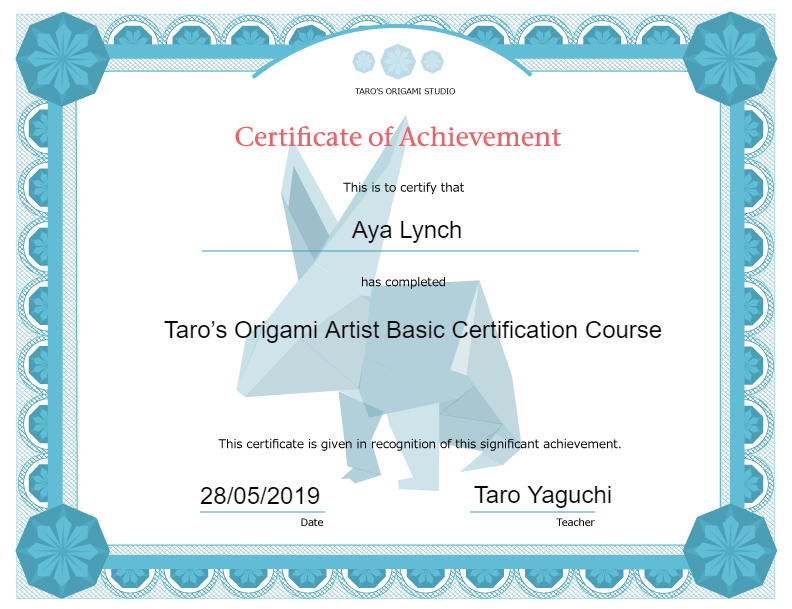 Certificate
After completion of the Basic Certification Course, you will receive a certificate. The certificate will be emailed to you within a few days of the last course. *We will resume mailing physical copies after quarantine has been lifted.
Course Features
Lectures

1

Quizzes

1

Duration

50 hours

Skill level

All levels

Language

English

Students

50

Certificate

Yes

Assessments

Self